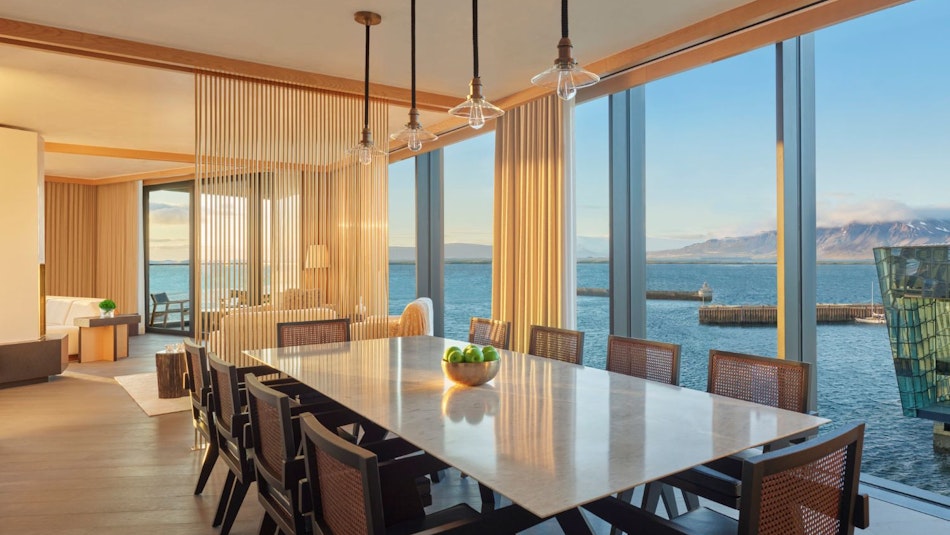 New hotels in Reykjavík
Compared to many cities, Reykjavík is a compact and walkable city. Most of the city's attractions, including trendy bars and restaurants, museums, swimming pools, hotels, conference center facilities, and all the exciting event venues, are within a short walking distance of downtown. 
Over the past year, we have had four new hotel openings in downtown Reykjavík and the Old Harbor area.  
New accomodations include: 
The Reykjavik EDITION is a 5-star luxury hotel next to the Harpa Conference Center. The hotel includes 253 rooms, 26 spacious suites, and a penthouse with stylish modern decor by Ian Schrager. There is a rooftop bar and spa with stunning views over the harbor and Mt. Esja. Icelandic Michelin Star Chef Gunnar Karl Gíslason creates the signature dishes at TIDES Restaurant.   
The brand-new Iceland Parliament Hote, a complex of seven rebuilt and new buildings, is part of Hilton's Curio Collection. Located next to Iceland's parliament buildings and Reykjavik's most prominent square, Austurvöllur, the hotel features 163 stylish guest rooms and suites, a fitness center, the luxurious Parliament Spa, the Resident's lounge, and Telebar. The elegant in-house Hjá Jóni restaurant offers an eclectic mix of internationally inspired cuisine. Iceland Parliament Hotel offers various function rooms and event spaces.
Hotel Reykjavik Saga by Íslandshótel is an elegant 4-star spa hotel with 130 rooms that reflect a modern Icelandic style and traditions. The hotel's Fröken Reykjavik Kitchen & Bar offers modern Scandinavian cuisine with food served from an open kitchen. The hotel features a gym, spa, steam bath, and sauna. 
Grandi by Center Hotels is the newest member of the Center Hotels Group. The 4-star hotel offers 195 classic and comfortable standard rooms, deluxe rooms and suites, a spacious lobby and lounge area, and two meeting spaces with a combined size of 80 m2 (860 sq. feet). Grandi features the Héðinn Kitchen & Bar and the Hygge Bakery. A spa, wellness area, and outdoor garden are coming in the summer of 2023.