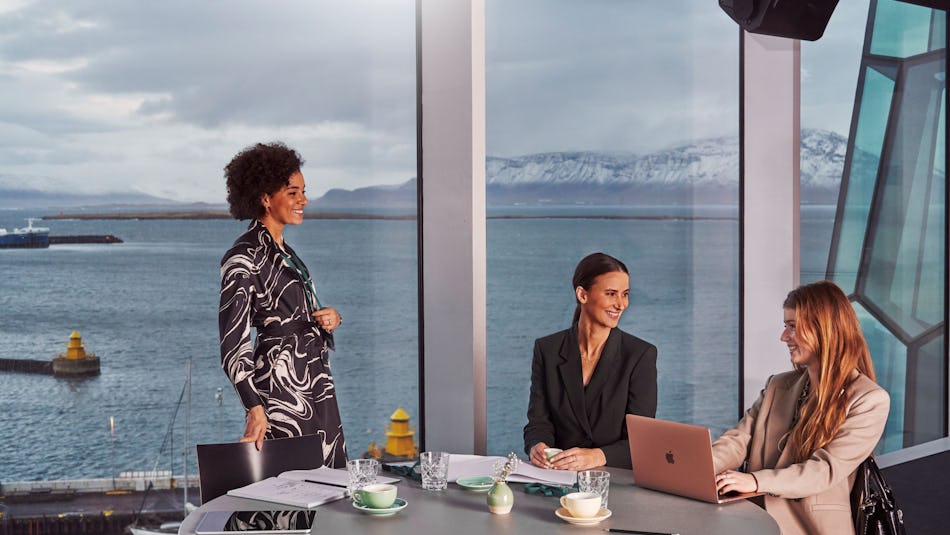 Top ten reasons why Reykjavík should be the next destination for your Business Event
The combination of culture, safety, comfort, and easy access to thrilling other-worldly nature and wellness opportunities for your MICE event is unrivaled.
1) Next door to nature
Nature abounds Reykjavík. Where else are you two hours from a glacier trek? 20 minutes from hiking or horseback riding? How about whale watching boats right downtown? A helicopter ride plains of black lava or bubbling geothermal areas? Soaking in a world-class spa? Reykjavík has all these in a modern, compact, and walkable European city with accommodations for large international events and boutique stays.   
2) High-tech infrastructure
Reykjavík has the high-tech infrastructure and professional know-how to meet the most demanding needs of the MICE market. Iceland has the high-tech infrastructure and technical support for the most challenging events at its conference halls, convention centers, and meeting venues. The country also ranks in the top ten in ICT (Information and Communication Technology) adoption and digital skills in the World Economic Forum's The Global Competitiveness Report - Special Edition 2020. 
3) Green is good
There is increasing demand for environmental, economic, and socially sustainable events. Most companies and associations consider conferences and events as an extension of their brand and a platform to communicate values. Reykjavík is powered by 100% sustainable energy. All homes and businesses are heated with geothermal energy, and electricity is sourced from geothermal and hydroelectric. The Global Destination Sustainability Movement revealed its 2021 GDS-Index. Reykjavík ranks 5th and has been on the GDS-Index since its launch in 2016 and has maintained a top 10 ranking. You can even offset your Iceland event with the Icelandic Carbon Fund. 
4) International reach with a local touch
Because Iceland has such a small population, perhaps it is no surprise there is a strong sense of culture, family, and community. These networks are invaluable for connecting people and ideas into action and getting the job done! At Meet in Reykjavík, we know the ins and outs of the business event industry in Iceland and the people we work with. Our advice is free, impartial, and customized just for your event. We understand that designing and executing a successful business event is constantly evolving. Expectations are ever-increasing for environmental and socially sustainable events with more complex and innovative experiences. 
5) Safety first 
One clue of Iceland's safety (which often shocks foreign tourists) is seeing strollers with bundled-up babies sleeping outside houses, storefronts, and restaurants. (The fresh air helps them sleep!) We pride ourselves on our peacefulness and being the only NATO member without a standing military. Iceland ranks first on the Global Peace Index and has annually since the start of the index in 2008. The crime rate is exceedingly low, and Icelandic police do not carry guns! Children play outside unsupervised from an early age, often only returning when their dinner—or curfew starts! 
6) Stepping up to the plate (and glass) 
Icelandic cuisine has come a long way in the past 15 years. Inspired by the New Nordic Cuisine movement and the influx of tourists, chefs are looking back to their culinary history while pioneering new techniques, freshness, purity, and flavors. Icelandic chefs have embraced locally sourced and seasonal ingredients inspired by outside influences. Thankfully, you can still find traditional dishes such as rye bread cooked in hot springs and dried fish spread with freshly churned butter. Try it! 
Beer only became legal in Iceland in 1989! We're making up for lost time with new breweries and brewpubs fermenting across the country. Iceland even has a burgeoning spirits scene with gin and vodka distilleries. Time your event just right, and there is the Reykjavi­k Food and Fun Festival, where visiting chefs from the US and Europe team up with local restaurants to create gourmet menus at affordable prices for a one-week competition. Verði þér að góðu! (That's Icelandic for "enjoy your meal")
7) Location, location, location
Iceland is so much closer than you think! Direct flying time from JFK to Keflavík (KEF) is about 5.5 hours. Many carriers have daily flights connecting Iceland with most major gateways in Europe (2.5-3 hours) and North America (5-6 hours). Reykjavik is a 45-minute ride from KEF airport and is a friendly, accessible, and compact city with minimal traffic. Most venues and hotels in Reykjavik are within walking distance or a 15-minute ride from each other. Smaller towns are easily accessible via domestic planes in less than 1 hour.
8) Exceptional equality
According to the latest report from World Economic Forum, Iceland is the most gender-equal country globally. In 2018, Iceland instituted Equal Pay Certification that requires workplaces to prove that they pay employees the same wage for the same job without discriminating based on sex. Iceland also ranks first in the world on the latest LGBTI Global Acceptance Index, which measures the national level of acceptance of lesbian, gay, bisexual, transgender, and intersex people. Iceland supports and encourages diversity for a richer society. 
9) Arts, culture, & film
We take tremendous pride in our creative industries and arts. Reykjavík is renowned for its active nightlife, thriving music, and lively art scene. Despite its size, Reykjavik is a buzzing cultural hub with many art galleries, theatres, and concert venues. The vibrant cultural scene has gained a substantial following for events such as Iceland Airwaves, Sonar Festival, Reykjavi­k International Literary Festival, Reykjavík Pride week, Design March, Dark Music Days, Stockfish European & Reykjavík International Film Festivals, Reykjavík Arts Festival, and a constantly rotating schedule of art exhibitions. Travel across Iceland, and you will see that art is not confined to Reykjavík. 
10) Wellness 
One of the added benefits of plentiful geothermally heated waters is the spas! Iceland's Blue Lagoon is now a global "bucket list" destination. With its success, many new spas are opening up around the country. Naturally, spas are a fantastic way to wind down and recharge after a day of meetings. Besides stunning scenery, several spas offer various packages and treatments to help you achieve relaxing bliss. Wellness beyond water activities abounds in Iceland too! Yoga, biking, hiking, horseback riding, kayaking, skiing, and healthy eating, just to name a few. Find your wellness bliss in Reykjavík!